Main Menu
JKPFA Series
Nuclear Forces
FA FAQ and Help
FA Editing Help
Libraries
Maps
Music
Missions
Other Files
USNF Files
ATF Files
Message Board
External Links
Email Webmaster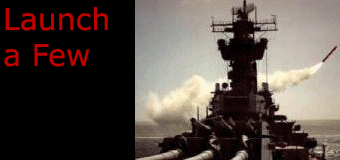 Information about Nuclear Forces:
From John K. Peterson, creator of the JKPFA libs, comes Nuclear Forces, a custom library for Jane's Fighters Anthology. Nuclear Forces has 70% commonality with JKPFA, lending to a high standard of realism and features. The major change from JKPFA version 4.0 is the removal of most post-Cold War aircraft and weapons, allowing for a much larger number of 1950s-1980s weapons, with an emphasis on nuclear weaponry and delivery systems.
- Bombers: B-26K Invader, B-29 Superfortress, B-36 Peacemaker, B-47 Stratojet, B-52D/G/H Stratofortresses, B-57 Intruder, B-58A Hustler, B-70A Valkyrie, B-1A Excalibur, B-1B Lancer, B-2A Spirit, EB-52 Megafortress, M-4 Bison, M-52 Bounder, Tu-16 Badger, Tu-95 Bear, Tu-22 Blinder, Tu-22M Backfire, Tu-160 Blackjack, etc.
- Fighters: F-84E Thunderjet, F-84F/G Thunderstreak, F-86 Sabre, F-100 Super Sabre, F-101 Voodoo, F-102 Delta Dagger, F-104A/G/S Starfighters, F-105 Thunderchief, F-106A/C Delta Darts, F-108 Rapier, F-111B/C/F Aardvarks, FB-111A Aardvarks, MiG-15 Fagot, MiG-17 Fresco, MiG-19 Farmer, MiG-21F/MF/bis Fishbeds, MiG-23G/BN Floggers, MiG-29 Fulcrum, MiG-31 Foxhound, Su-11 Fishpot, Su-17M1/M4 Fitters, Su-21 Flagon, Su-22 Fitter, Su-24MK Fencer, Tu-128 Fiddler, Yak-28P Firebar, etc.